Hair loss: Who gets, causes, and hair regrowth treatment options
Hair loss may dramatically affect one's self-esteem and can reduce the quality of life. If a person notices a decline in quality of life after hair loss, they should seek support from a medical professional.
Our team of doctors believes that losing hair has a psychological and emotional impact on people and their lives. We specialize in providing a combination of hair growth regimes with the very latest scientific technology in hair regrowth treatments and how to stop hair loss.
Here at Livglam clinic, our expert doctors have many years of experience in hair loss treatments delivering exceptional results and quality hair treatment for hair loss in both men and women suffering from thinning hair. We specialize in hair treatment for hair loss offering services to help work tailor treatments to individual needs.
Does everyone go through hair loss?
Anyone can lose hair on their head, but it's more common in men than women. Almost 40% of the total cases are reported of women and the rest 60% belong to men. Because men are constantly producing testosterone which is responsible for shrinking hair follicles and this makes it hard for them to live.
When compared men tend to lose a lot of hair over a shorter period, whereas women lose their hair at a slower rate all over the scalp so the appearance is thinning rather than hair loss.
What causes hair loss?
Alopecia or hair loss is a common biological problem in both men and women all over the world. More than 50% of males and females suffer from male and female pattern baldness at some point in their lives.
There are different underlying causes for different types of hair loss.
Serious illness

Medical conditions like thyroid, malnutrition and autoimmune conditions

Hormonal fluctuations during pregnancy, child birth and menopause

Extreme stress

Traumatic event or severe shock

Medications like blood thinning medicines, oral contraceptives etc
Because so many things can cause hair loss, its best to schedule an appointment with doctor if you notice excessive hair fall.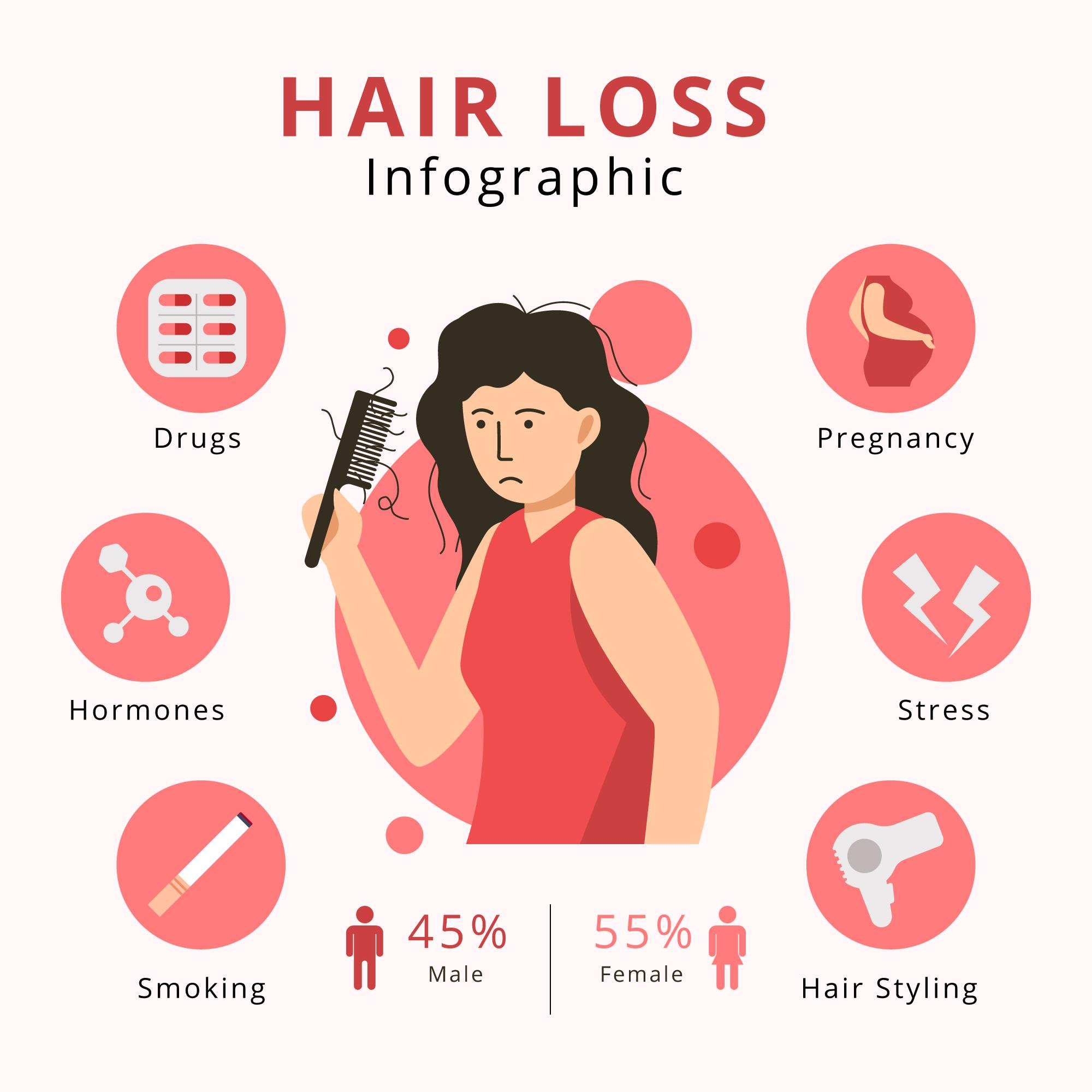 FDA-Approved Medications for Hair loss treatment in Bangalore
Hair fall treatment can be treated with some FDA-approved topical solutions and oral prescription drugs recommended by dermatologists and trichologists to help prevent further hair loss.
Minoxidil - A topical solution that is applied directly to the scalp to stimulate the hair follicles. It reduces hair loss for many men, and for some new hair grows. Minoxidil comes in 5% and 2 % solutions which are considered to be safe for hair fall treatment, however, the 2% solution is hair loss treatment for women approved by FDA.
Finasteride - A pill that interferes with the production of a highly active form of testosterone that is linked to baldness. It slightly gives results better than Minoxidil. You may take finasteride alone or use it along with Minoxidil.
Dutasteride – Another medication for hair loss treatment for men is dutasteride which is similar to finasteride but gives results better than Finasteride. Results have proven that dutasteride effectively increases hair growth and restoration in patients with androgenetic alopecia.
Many types of hair fall treatments can be treated with a combination of medications for optimal results. These medications can slow down the rate of hair loss, but this is not a permanent cure for hair loss treatment for men. But once you stop using topical solutions and oral medications, hair loss returns.
Depending on the severity of hair loss, our doctors recommend you effective hair treatment for hair loss which can control and reverse the hair loss process.
There is a range of hair regrowth treatment options available in the Livglam clinic, but the best treatment option for you will depend on what's causing hair loss.
Platelet-Rich Plasma(PRP)
PRP therapy for hair fall treatment is a non-surgical hair loss treatment in which platelets are injected into the scalp to stimulate hair growth. This includes drawing your blood, gathering a solution that is rich in platelets, and injecting the areas of balding over a series of sessions.
PRP injections are effective in treating male pattern baldness, it's a cost-effective and feasible treatment option for hair loss treatment for men.
Growth Factor Concentrate(GFC)
GFC is an advanced PRP procedure for hair fall treatment, where GFC is highly concentrated growth factor preparation from platelets of the patient's blood for better hair regrowth and facial rejuvenation benefits. This concentrated development factor solution is then applied to the scalp using microinjections.
GFC kit contains a platelet activator to release specific growth factors that play an active role to promote hair regrowth.
Future GFC(FGFC)
Livglam has the exclusive most advanced Future generation GFC Which has been proven concerning results of hair regrowth where it is considered to be better than traditional GFC & PRP.
FGFC includes plant-derived peptides added to growth factors to potentiate follicular stem cells and scalp tissue. It is an advanced hair treatment for women especially, to achieve better results as many female clients who took it reported that they noticed growing hair in places where they had lost it.
Laser combs
Laser therapy is one of the newer forms of hair loss treatment. This device promotes hair growth by using concentrated light to stimulate hair follicles. It provides the best results when combined with other forms of treatment.
QR 678 therapy
The QR678 injections are more advanced hair regrowth therapy than a stem cell and PRP injections. It is a minimally invasive method for hair loss treatment in Bangalore that not only stops hair fall but also treats the root cause of the problem. QR678 solution is injected in the areas where hair loss is evident.
Why Livglam Aesthetic clinic for hair loss treatment in bangalore?
Best and most experienced dermato-trichologist and aestheticians

Tricho/scalp analysis to evaluate scalp condition and severity of hair loss

Latest treatment techniques and side-effect free.

Pre and post care support

99% success rate

Customized and cost-effective treatments
Conclusion
If you are worried about hair fall, then head to the Livglam Aesthetic clinic one of the best clinics for hair loss treatment in bangalore. We have been providing solutions for hair loss and skin issues for more than a decade with 99% customer satisfaction. We are proud to be the top skin and hair clinic in Bangalore that offers a range of hair loss treatments to prevent further hair loss and boost your confidence with hair restoration procedures from Livglam clinics.
Find the right treatment option for you and start your hair restoration journey today with Livglam clinics.